Finance apps
BillPoint Reviews: BillPoint is a New App For Cheap Airtime, Data and TV Subscriptions
BillPoint: a New App For Cheap Airtime, Data & TV Subscriptions
A few years ago, the process of making simple payments such as settling electricity bills, buying airtime, data, subscribing to cable TV services like GOTV/DSTV, or even funding your betting account, required a short or a bit long-distance trekking to a physical outlet or shop. 
Those days are now a thing of the past, as technology has paved the way for convenient mobile payments right from the comfort of your home.
Today, various fintech platforms have emerged, changing the way we handle transactions. 
With just a few taps on your mobile phone, you can effortlessly complete payments for electricity bills, and TV subscriptions, and even fund your betting account. In this article, we'll delve into the world of modern payments and explore a new player in the field  which is the trending "BillPoint app."
Without much ado, let's delve deeply into exploring BillPoint: a New App For Cheap Airtime, Data & TV Subscriptions.
BillPoint: a New App For Cheap Airtime, Data & TV Subscriptions
About BillPoint
The BillPoint app stands out as a recently launched platform that carries out seamless and straightforward payments. 
This all-in-one solution lets you handle diverse transactions, including electricity bill settlements, GOTV/DSTV subscriptions, airtime and data purchases, and much more. 
The brain behind this new app is the "BLord Group", a fintech company known for its involvement in various industries, including real estate and cryptocurrency.
The driving force behind BLord group is Linus Williams, a prominent figure in the cryptocurrency realm. 
Known as Bitcoin Lord, he has garnered significant recognition as a Bitcoin trader, coach, and crypto entrepreneur. 
Linus Williams has elevated his cryptocurrency company, the B-lord group of companies, to the point where its presence is felt across major cities like Abuja, Lagos, and Anambra. 
The group boasts several branches, such as B-lord bitcoin store, B-lord gadget store, B-lord luxury store, and B-lord automobiles, demonstrating a diverse entrepreneurial spirit.
How To Start Using BillPoint App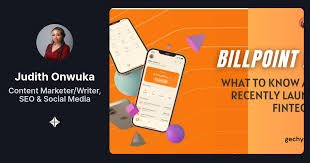 To start using BillPoint, the first step how to start using Billpoint app involves downloading and installing the app from either the Google Play Store or the iOS App Store. 
Once you've successfully installed the app on your smartphone, the next stage is registration. 
This entails providing your email address, and phone number, and creating a secure password, ensuring your account remains safe and accessible only to you.
With the app downloaded and your account created, logging in becomes an easy process. 
A simple process requiring your email address or phone number, along with your chosen password, gets you swiftly connected to the world of BillPoint.
How to Make Payment On BillPoint App
Billpoint is a user-friendly app that works on any device or smartphone. Making it is also a simple process. When it comes to payments, you have the option to fund your BillPoint wallet via bank transfers or by conveniently linking your ATM card. 
Read: Is Carbon Loan Legit? How does it Work? Interest rate, Carbon Loan App Download, FAQs
This initial funding empowers you to carry out payments effortlessly.
Whether you're settling your electricity bill or purchasing airtime and data, BillPoint simplifies the process, ensuring that you can navigate through transactions without any hurdles.
 With just a few taps, you'll find yourself completing payments with ease, freeing you from the hassle of physical outlets or lengthy online processes.
Billpoint Referral Program
One of the best strategies for online business is the offering of incentives to individuals who are willing to refer new users. Opay and Palmpay are top competitors in the same industry as Billpoint, yet, they never stop offering incentives to users.
This Is a strategy Billpoint had also implemented.
BillPoint app introduces a referral program that allows you to earn rewards by inviting friends and acquaintances to join the platform. 
Upon registration, you receive a unique referral link that serves as your key to unlocking rewards. 
By sharing this link and encouraging others to download the app and make payments, you're not only helping them embrace the convenience of BillPoint but also reaping the benefits of your influence.
BillPoint Legitimacy: Is BillPoint Legit?
Is Billpoint legit or a scam? 
This is a common question people often ask, they need to be sure a platform is legit and not to fall victim.
However, with BillPoint, you need to be rest assured, the BillPoint app is a legitimate avenue for completing your payments. 
Owned by BLord group, a reputable fintech company, and helmed by the cryptocurrency luminary Linus Williams (Bitcoin Lord), the app's credibility is further solidified by its presence on billboards across major cities in Nigeria.
The number of ventures under BLord group's umbrella, including bitcoin stores, gadget stores, luxury stores, and automobiles, ensure the legitimacy of the invented app.
Despite being new, a number of users have attested to the seamless experience they had using the Billpoint app for payment transactions.
FAQs On BillPoint App
Here are the top frequently asked questions related to "BillPoint: a New App For Cheap Airtime, Data & TV Subscriptions" with answers:
Is the BillPoint app available for both Android and iOS devices?
Yes, the BillPoint app is available for download on both the Google Play Store and the iOS App Store.
Can I earn rewards by referring friends to use the BillPoint app?
Absolutely, the app offers a referral program that lets you earn rewards when your friends join and make payments using your unique referral link.
Is the BillPoint app safe and secure for conducting transactions?
Yes, the app makes the security of your transactions, ensuring that your financial information remains protected.
What are the different services I can avail through the BillPoint app?
The BillPoint app offers a wide range of services, including electricity bill payments, TV subscriptions, airtime and data purchases, and more.
Who is Linus Williams, and what role does he play in the BillPoint app?
Linus Williams, also known as Bitcoin Lord, is the driving force behind the app's parent company, BLord Group. His expertise in cryptocurrency and entrepreneurship underscores the app's credibility and innovation.
Can I download the BillPoint app on both Android and iOS devices?
Absolutely! The BillPoint app is available for download on both the Google Play Store and the iOS App Store.
How do I earn rewards through the referral program?
It's simple. Once you sign up, you'll receive a unique referral link. Share this link with your friends, and when they join and make payments using BillPoint, you earn rewards.