Top 10 Shipping And Delivery Companies in Nigeria
Shipping and delivery companies in Nigeria play a crucial role in today's world where online shopping and business transactions are booming day by day and with the rise of e-commerce and the need for quick and reliable transportation, these companies have become the backbone of efficient logistics.
In a country like Nigeria with its own set of challenges, such as poor infrastructure, these delivery companies have stepped up their game to provide solutions that bridge the gap between buyers and sellers. 
They offer a range of services, from local deliveries within cities to international shipping that connects Nigeria to various corners of the world.
The competition among these companies is heating up, leading to innovative approaches that focus on convenience, speed, and security. 
Imagine being able to order something from another city or even another country and having it delivered to your doorstep within days – that's the kind of convenience these companies are striving to provide and they're actually providing it.
For businesses, these companies are lifelines, ensuring that their products reach customers promptly and in good condition. They also support the growth of e-commerce by offering services like return pickups and cash-on-delivery options, which add more convenience for both sellers and buyers.
Going through this sea of options can be overwhelming, but reading customer reviews and comparing services can help you choose the right company for your needs.
Whether you're an individual looking to send a gift to a loved one or a business aiming to expand your reach, these shipping and delivery companies are there to simplify the process and make sure your packages reach their intended destinations safely and efficiently.
Therefore, this article is a comprehensive guide that contains the leading and top 10 shipping and delivery companies in Nigeria in 2023. 
These shipping and delivery companies implement better strategies that actually make them top-notch.
Let's delve into knowing the list of top 10 shipping and delivery companies in Nigeria in 2023.
List Of 10 Shipping And Delivery Companies in Nigeria In 2023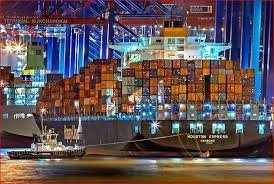 Below is the comprehensive list and details about the top 10 shipping and delivery companies in Nigeria in 2023:
Topship emerges as a leading contender in the Nigerian shipping and delivery services.
With a strong focus on customer convenience, they offer both local and international shipping at affordable rates. Their hallmark is same-day delivery within major cities like Lagos, Ibadan, and Abuja. What sets them apart is their commitment to secure and efficient international shipping, connecting Nigeria to over 200 global destinations.
 Topship's user friendly interface and excellent shipment tracking ensure a seamless experience for senders and recipients. 
We also have Sendbox. 
Sendbox is another company found among the top 10 shipping and delivery companies in Nigeria in 2023.
For those seeking comprehensive logistics solutions, Sendbox is a standout choice. Beyond its local and international delivery services, Sendbox empowers entrepreneurs through its integrated business platform. 
This platform not only enables online selling but also provides marketing services to boost businesses. 
The allure of Sendbox lies in its ability to cater to both personal and commercial shipping needs, making it a versatile option for those seeking a complete delivery ecosystem.
MAX, known for its dual identity as a safe delivery service and a bike ride-hailing platform, is making waves in Nigeria. 
With a vision to revolutionize last-mile logistics, MAX brings reliability and efficiency to the forefront. 
Their bike delivery dispatch services offer cost-effective and swift solutions, enhancing the accessibility of deliveries across the country. 
MAX's commitment to modernizing logistics makes it a choice in the ever-evolving Nigerian market.
Wemove
Wemove Shipping and delivery company is also on the list of the top 10 shipping and delivery companies in Nigeria in 2023.
It distinguishes itself as a go-to haulage company, providing an array of vehicle options for both goods and people. 
Their fleet, comprising cars, buses, and trucks, accommodates diverse transportation needs. 
The convenience of tapping into these vehicles for efficient movement contributes to Wemove's popularity. As Nigeria's economy flourishes, Wemove's role in supporting the transportation sector becomes increasingly important.
Kobo360
Kobo360's name resonates across Africa's logistics landscape. 
Their innovative approach to simplifying truck-based deliveries has earned them a strong reputation. 
The platform's ease of use and effectiveness in connecting shippers with truckers has brought newfound efficiency to cargo transportation. 
Kobo360's impact on streamlining supply chains and enhancing trade is noteworthy in Nigeria's striving economic environment.
Red Star Express
Red Star Express boasts a comprehensive suite of logistics services, making it a trusted partner for businesses and individuals alike. 
Their portfolio spans domestic and international express delivery, freight forwarding, warehousing, e-commerce solutions, and more. 
This wide range positions them as a one-stop shop for various logistical needs, contributing to the growth and success of Nigeria's commerce.
Tranex Delivery Company
With a history dating back to 1984, Tranex holds its ground as one of Nigeria's indigenous delivery companies. 
Their longevity and adaptability are commendable, catering to both domestic and international shipping demands. Tranex's fleet, comprising motorcycles, vans, buses, and trucks, ensures seamless delivery. 
The company's listing on the Nigerian Stock Exchange attests to its credibility and stability within the market.
AB Logistics
When it comes to affordability, AB Logistics stands out as a reliable option for shippers who are budget conscious.
AB Logistics offers cost-effective door-to-door package delivery, they serve as an ideal choice for sending documents, parcels, and invitations. 
Their commitment to providing accessible logistics solutions contributes to their popularity among a wide range of customers.
EMS SpeedPost cannot be overlooked or excluded from the list of top 10 shipping and delivery companies in Nigeria in 2023, no way!
EMS SpeedPost has been a cornerstone of NIPOST's courier services since 1986. It remains synonymous with quick and quality parcel handling.
 Its nationwide reach and affordability make it a preferred choice for individuals and businesses alike. 
The reliability and cost-effectiveness of EMS SpeedPost position it as a vital component of Nigeria's logistics network.
GIG Logistics
Last, but not the least, we have GIG Logistics and it's one of the best and top 10 shipping and delivery companies in Nigeria in 2023.
With an extensive presence across Nigerian cities, GIG Logistics has solidified its status as a reputable courier company. Their comprehensive offerings encompass e-commerce logistics services, domestic courier solutions, and international courier solutions. 
The widespread availability of GIG Logistics' services establishes them as a go-to option for seamless shipping experiences.
FAQs On Top 10 Shipping And Delivery Companies in Nigeria
Here are some frequently asked questions on the top 10 shipping and delivery companies in Nigeria in 2023:
How do I choose the right delivery company for my needs?
Choosing the right delivery company depends on your specific requirements. Consider factors such as the type of items you're shipping, the destination (local or international), delivery speed, and your budget. 
Compare the services offered by different companies and read customer reviews to make an informed decision.
Are these companies suitable for both individuals and businesses?
Yes, most of the listed companies cater to both individuals and businesses. 
They offer a range of services that can accommodate personal shipments, e-commerce deliveries, and larger business logistics needs.
What is the typical delivery time for domestic and international shipments?
Delivery times usually depend on the company and the destination. 
Domestic shipments within Nigeria usually take a few days, with some companies offering same-day delivery within specific cities. 
International shipments on the other hand usually take longer, ranging from a few days to a couple of weeks, depending on the destination country.
How can I track my shipments to Nigeria?
Most of these delivery companies provide online tracking services. 
You'll receive a tracking number once your shipment is processed. 
You can use this number to track the status and location of your package on the company's website or through their tracking portal.
Can I arrange for pickups and returns?
Yes, many of these companies offer pickup services for your packages. 
Also, some companies provide reverse logistics options, allowing you to arrange for returns or pickups from your customers.