Business ideas
How To Start A Salon Business That Makes 1 Million Monthly
Do you want to know how to Start a Salon Business That Makes 1 Million Monthly?
If yes then you're on the right page already. Starting a salon that makes millions monthly is very possible, especially in places like Lagos, Port Harcourt, Ibadan, etc. However, if you think you can make this million in a month just by yourself alone then I'd tell you it's a daydream. It's never possible and cannot be achieved all by yourself except if 80% of your customers are celebrities, politicians, and big businessmen.
And even with that, you will experience the downsides of the business most of the time.
What I'm trying to make you knowledgeable of is that you'll need at least 4 or more staff to make that huge amount of money monthly.
Without taking much of your time, this article is all about how to Start a Salon Business That Makes 1 Million Monthly likewise the related questions you need to know and understand.
Cost Of Starting A Salon Business That Makes Millions Monthly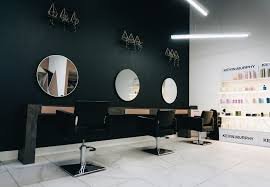 Before I give you more enlightenment on how to Start a Salon Business That Makes 1 Million Monthly, let's see the cost of starting a salon business that makes millions monthly in Nigeria today.
Saloon Business is a kind of business that doesn't require breaking the bank before getting started. 
However, because of the competition in the business, starting with the basic or little amount in a part of Nigeria like those mentioned earlier would make the business crawl or struggle a lot to grow.
In local areas, you can start a salon with less than 100k, this amount will be used to purchase the basic required tools and equipment needed in the business to kickstart.
Related: How To Make Money In Real Estate Without Investment
But if you're going to start big in a good location and with most of the required equipment and tools you will need a capital of at least N2 Million Naira.
Take for instance, a standard salon business (started with N2 Million) located in a good location with a low standard salon (started with less than 100k), which one do you think will perform better when it comes to getting customers' patronage and income?
The answer is left to you to answer!
Types Of Salon Business
The type of salon business is yet another important thing I'll like you to know before scrolling down to read How to Start a Salon Business That Makes 1 Million Monthly.
There are three types of salon businesses, they are the following:
Male Hair Salon

Female Hair Salon.

Unisex Hair Salon
1. Male Hair Salon
Male hair salons basically cater to male customers but most of the time styled female children or adults can patronize them.
For instance, some female children and adults prefer having low-cut hair instead of braiding, so some of the females who want this kind of haircut patronize male hair salons.
2. Female Hair Salon
The second type of salon here in Nigeria is the female hair salon. A female salon specialized only in female hairdressing.
However, because we now have few males e.g. Bobrisky that do female hair then we can say men also patronize them.
3. Unisex Hair Salon
This is the combination of both male and female hair styling skills, a unisex salon is handled separately even though they may be located in the same location or building because they both require different types and levels of expertise likewise their equipment.
How To Start A Salon Business That Makes 1 Million Monthly
The following steps and guidelines will show you how to Start a Salon Business That Makes 1 Million Monthly.
1. Raise Enough Capital
If you plan to start your salon business in a good location, then enough capital must be raised for the business.
Related: Top 10 Profitable Small Business Ideas To Start With Zero Capital In Nigeria
Do not forget the high competition in the business. If your salon business is of a low standard then you should expect a huge decline in clients.
Good capital is needed and required to find a space in good locations. 
As said earlier, starting a standard salon business may require up to the sum of N2 million or more, this is absolutely true, yet, your location will also determine if you will be patronized by influential people.
You can expect an influence to patronize an underperforming saloon, be it a male salon, female salon and or unisex salon.
Your capital must be able to cover everything needed in your salon business, this includes the purchasing of tools and equipment, building or store, staff and a lot more.
2. Expand Your Service Offers
You are a hairdresser that doesn't hinder you from offering related services. 
Offering related services command more customers and profit.
As a hairdresser, you must have already had a salon menu that contains your area of specialization e.g haircuts, hair coloring treatment, blowouts, etc.
But what about manicures and pedicures?
Although it is best to stay on top of the latest styles and techniques in your industry, adding more related services is advantageous.
3. Adopt A New Set Of Strategies
In every business, the use of strong and convincing strategies is needed, which is offering services your competitors aren't offering.
You can check enjovia websites for more strategies needed to make up to 1 million nairas monthly in your salon business.
Frequently Asked Questions On How To Start A Salon Business That Makes 1 Million Monthly.
Some questions related to how to Start a Salon Business That Makes 1 Million Monthly as being listed and explained briefly below:
Is Salon Business Profitable?
Unlike some years ago, saloon businesses have become more profitable and are included on the list of top high-income skills in Nigeria.
Must I Be In A Good Location To Make 1 Million Monthly?
Yes, but not enough.
Firstly you must find your Salon business in a good location, employ a number of staff and offer quality services.
Can I Make One Million In My Salon Business From Any Good Location In Nigeria?
This is certainly not guaranteed. But locating your business around or near influential people resides is top-notch.