Poultry farming has never been and may never be rated amongst the list of unprofitable businesses due to a lot of reasons attached. Poultry farming can be seen as the process of raising various livestock for human consumption. Examples of livestock are cows, pigs, goats, rabbits, turkeys, geese, chickens, etc. It'sa business with passive income in return. However, in this article, I'll show you how to start a poultry farm business and insight into everything you need to know about it.
Throughout the world, the poultry farming business has never been underestimated because it's indeed a lucrative business that can be started with a little capital even in the comfort of your home, this will save you a lot of money you could have spent on something's that aren't necessary yet.
Just like I mentioned in my previous article-, every business requires good planning if not, such would go bankrupt in the shortest time.
I understand that the purpose of your being here is to learn how to start a poultry farm business and I assure you, you will gain the needed pieces of information.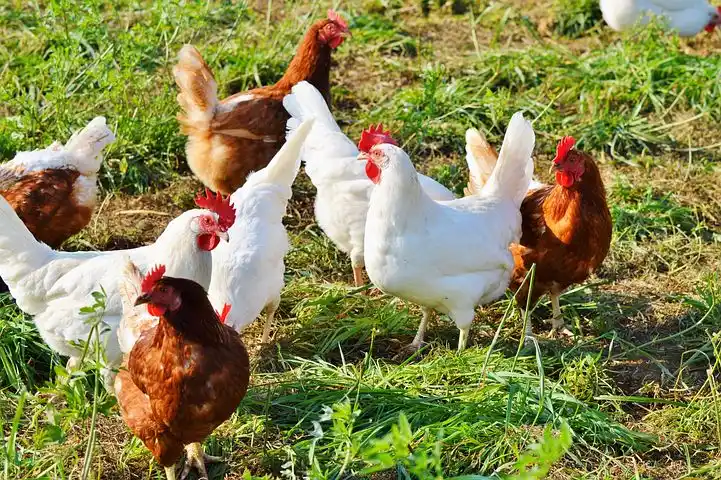 How To Start Poultry Farm Business In 2023
If you're already planning to start your own poultry farming, read till the end to have in-depth knowledge on how to successfully start it.
1. Set Determination On The Kind Of Poultry Bird You Want To Rear
Earlier, I defined poultry farming as the process of raising various livestock for human consumption.
Here, chicken is not exempted.
Read: Top 5 Fastest Growing Businesses To Start In Nigeria Right Now
Before taking any decision on starting a poultry farming business, you should first set your determination on the kind of poultry bird you want to rear.
This is the first thing you must consider if at all you are going to start.
There are three common poultry birds, these are; broilers, layers, cockerels, etc.
Broiler Birds: These are birds whose male and female are raised for meat.
When these breeds get proper care, they can grow from hatch weight to approximately 2kg within 6 weeks.
Their main proper care is to feed them at the right time, put them under a number of weather conditions, and give them drugs when required.
Layer Birds: These are birds raised purposely for commercial egg production and could be eaten when they are mature enough.
Most of the layer Birds lay eggs starting from the 18th week until the 78th week.
When a layer bird is unable to produce eggs again, it can be used for meat.
Cockerels: Cockerels, in general, is very slow when it comes to growth, unlike layers and broilers.
However, it's similar to a broiler as it's also used for meat.
It has the ability to survive in a little harsh environment, unlike the broilers and layers.
2. Find An Healthy Location
An healthy is simply a clean area. Your home is an example of a clean area, if you're starting small, you can start in the comfort of your home but you must have in mind that as the farm begins to expand, you must find a suitable and convenient location for your poultry birds. 
The number of your poultry birds will determine the size of the site or land you're going to acquire
However, you should always remember to look for a healthy area- a place free of pollution.
3. Shelter
If you're starting small or big and have acquired a pollution-free site for your poultry birds, the next step you should take is to provide shelter for them.
Birds cannot be bred anyhow, they need proper and extra care, and that's when you need to provide them shelter.
Unlike goats, goats required less care, they're rugged, easily get adapted to any weather condition, and even they can live in polluted areas.
But as for poultry birds, you must build their pen as soon as you find a good location.
It should be well-ventilated and free of sunlight to keep them in normal condition.
4. Provision Of Food
Another compulsory thing you must never overlook is the provision of food.
This is the first thing I would like you to consider in this article- how to start a poultry farm business in 2023.
Also Read: Top 10 Profitable Business To Start With 100k In Nigeria 2023
It's recommended you don't start at all but rather start without enough food.
These birds are weaker kinds of livestock, when the food supply is insufficient, it could result in low growth and may give up the ghost as a result of hunger.
Food must always be readily available for your bird, they can't hold on to hunger for long.
5. Provision Of Birds Medication
There's no way you can escape this, birds will always fall sick as a result of different kinds of diseases.
Your duty is to separate the unhealthy birds from the healthy ones and get the unhealthy ones vaccinated.
You may need to hire a veterinarian doctor to take care of your birds when required.
Cost Of Starting Poultry Farming Business In 2023
You have learned 6 key points on how to start a poultry farm business but it's not complete if the start-up capital isn't included.
How how much do you really need to start a poultry farming business?
Poultry Farming is a lucrative business idea that can generate high income just within a year whether you start big or not.
Poultry farming business is a business that can be started with as little as N80,000.
Note: An amount lower than that can still start this business but if your target is high income, you can consider starting with N80,000 and beyond.
The N80,000 would be used in purchasing the necessary equipment, food, vaccines, and birds with the exemption of site.
The capital of 80k isn't cannot be used in acquiring all the needed equipment and the site.
Instead, you will find a location around or in your house to breed the birds.
However, if you're starting big, then you may be required to raise a capital of N1,000,000+, this would cover the cost of land and other equipment including vaccines, birds, food, etc.
Ready to kickstart your poultry farming business today?
Do ensure you follow all given guidelines in this article, possibly in less than a year, you should be smiling to the bank.