With the state of things in Nigeria currently, very few people can afford to live without credit. Things are hard and the situation is getting worse by the day.
There are applications that give Instant loans in Nigeria and some of them can be very good and trustworthy, In this post, we'll take a look at some of the best loan applications that are good and can give loans of at least 5000 Naira upwards to new users.
before we go further I have these few pieces of advice:
make sure to always borrow what you'll be able to repay, to avoid possible embarrassment by loan agents.
Only borrow for pressing needs, that's important things like health, education, etc.
When borrowing, the timeline you choose determines the interest you pay, the longer the timeline the higher the interest. Do your calculations well.
General requirements for loan applications in Nigeria
Bank verification number
good credit rating
At least 18 years of age
Smartphone with data
Salary or income
Best loan apps in Nigeria that give Instant and urgent loan in 2023
Below are the latest loan applications as at September 2023 for both android and iPhones that gives access to fast loans for users in Nigeria.
1. Fairmoney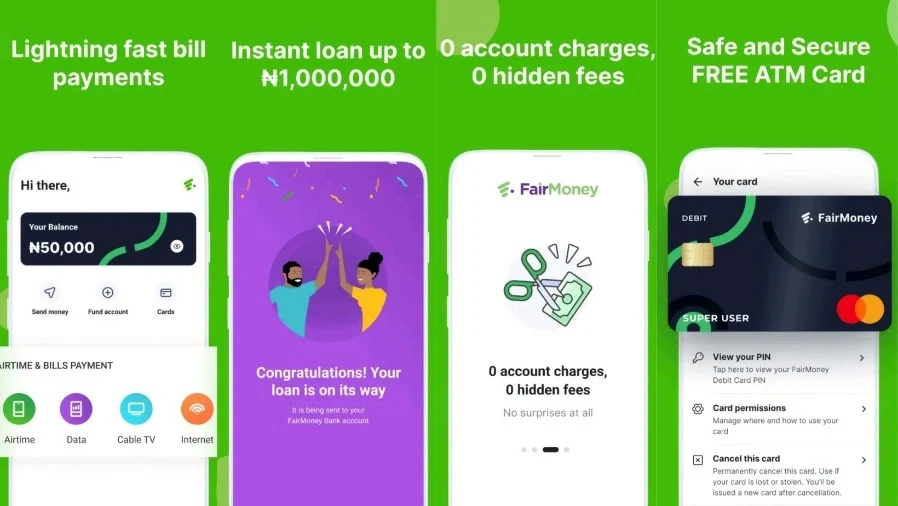 Fairmoney is the number one loan app in Nigeria currently, why? Because they have a very sophisticated platform for managing loans, making repayments and are very good at increasing credit score if you regularly use the application . Other things you benefit from fairmoney include, getting an account number to receive money, adding money to your account, sending money to any bank account for free, applying for a loan without collateral, paying your online bills, enjoy cheap airtime and bill payments, and also earn daily interest from savings, and one more, you don't pay anything fee for transfer, some of the reasons fairmoney takes the number one spot on this list of best loan apps in Nigeria.
2. Branch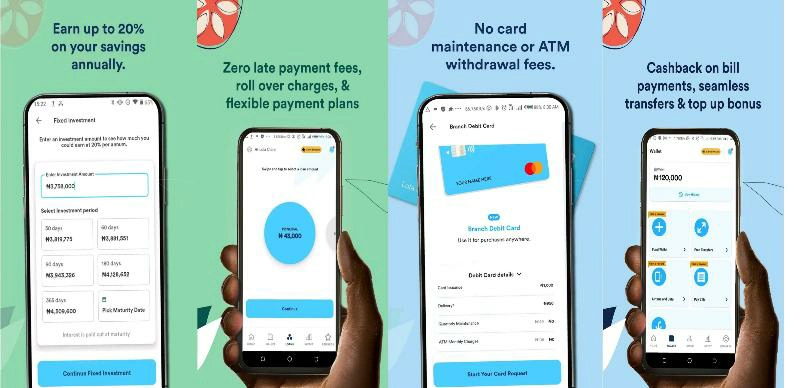 Branch is an online bank that offers instant cash loans, transfers, bill payments, and investing. You can borrow money for 62 days to 1 year, and the interest rates range from 3% to 23% depending on the risk profile of the customer. The APR (annual percentage rate) is from 34% to 271%. The reason branch takes the second position on this list of best loan apps in Nigeria is that there's no collateral needed, no late payment fee, no loan origination fees, processing fees, or any hidden costs associated with the loan agreement ????.
3. Palmcredit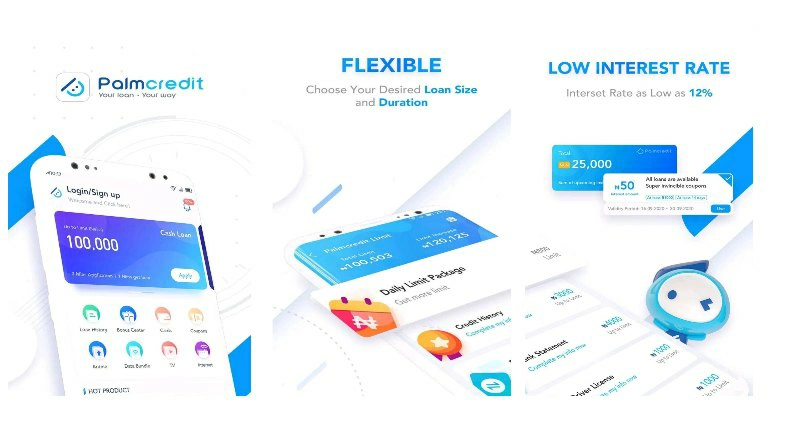 NewEdge finance Palmcredit, Is another loan application that you can apply for an instant loan with a flexible repayment plan and favorable interest rate. The limit range is from NGN10,000 to NGN300,000. You can repay your loan in 91days to 365days. Palmcredit comes third as the best loan app in Nigeria as it doesn't need any collateral and has no hidden fees, rollover charge or transaction fees. If you repay your loan on time, you can build your credit limit and drastically reduce the interest rate.
4. Quickcheck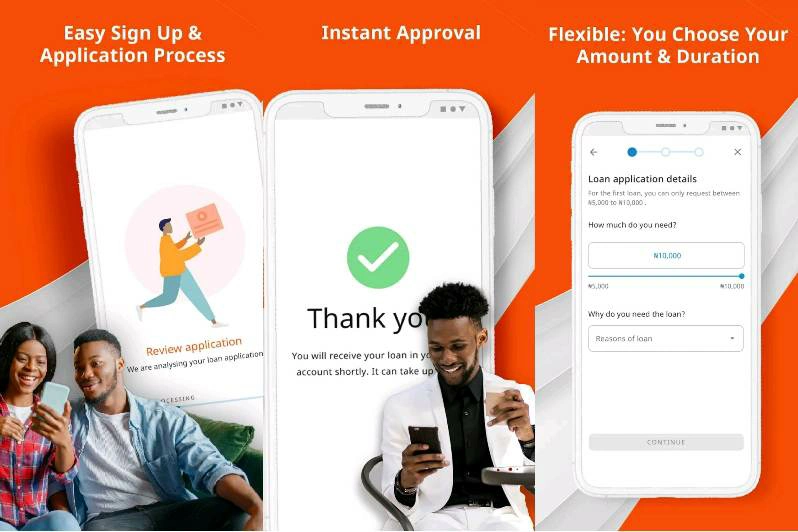 QuickCheck is a loan servicing app available in Nigeria that doesn't require collateral and can help you grow your business or while facing emergencies.To apply, you must download the app, sign up, and apply for a loan. If you are eligible, the money will be deposited into your account within minutes. Loan amount ranges from N2,000 to N1,000,000 and the interest rates start at 5% monthly.
5. Carbon (Paylater)
The Carbon Banking app, formerly known as paylater is one of the best loan application in Nigeria and a convenient way to get loans, save money, and pay bills. You can get loans up to ₦1m and earn up to 15.5% interest on your savings and investments. The app is available 24/7, best thing is that there are no late fees or processing costs. Other benefits include free visa debit card for national payments.
6. Okash
OKash is a Convenient Personal Loan Platform for Mobile Users in Nigeria. Blue Ridge Microfinance Bank Limited, fully licensed by the Central Bank of Nigeria, is the presenter (CBN).
OKash meets customers' financial needs totally online, 7 days a week. As one of the best loan application in Nigeria, the application process is simple, with little documentation required, and the approved loan amount is immediately deposited to your bank account. okash can be accessed from the opay application or directly by downloading it from playstore.
7. Aella App
Aella Credit is a Fintech firm that offers Quick and easy access to loans in 5mins. loan ranges from ₦2,000 to ₦1,500,000 with a tenor of 61 days to 365 days. Monthly interest rate of 1.5% to 22%. The Customer has flexible tenors for up to 6 months and early repayment discount of up to 60%, lastly, there's No hidden or late fees
8. Xcrosscash
Xcrosscash is another loan application that gives urgent loan to Nigerians. With xcrosscash you can increase your credit limit in a number of ways. This means you can get higher limits, lower interest rates, and more flexible repayment terms. Annual Percentage Rate (APR) ranges from 24% to 56%.
Example:
If you choose the 6-month loan and borrow ₦10,000, Xcrosscash charges 4% interest per month. interest rate:
24% with an APR of 48%. xcrosscash case is no. 8 on best loan apps in Nigeria. Being one of the best loan apps in Nigeria, You ultimately can increase your limits by doing relaxing activities or by Keeping proper repayment records.
9. Renmoney
With renmoney loan app, you can unlock loans of up to ₦6,000,000, earn great interest on your savings, pay bills, buy airtime & make payments, Renmoney gives urgent loans with no need for collateral or a salary account. As one of the best loan application in Nigeria, All you need is your BVN and you're set to get a quick loan.
Minimum loan repayment period is 3 month and maximum loan repayment period is 12 months. Monthly interest rates range from 2.65% – 9.89% and the maximum Annual Percentage Rate (APR) is 35.76%. No other fees are charged
10. Kaahkash
Kash Kash is a new loan servicing app that was launched in January 2023, they currently operate on both android and iOS. Kashcash offers Loan amount from ₦10,000 to ₦100,000, Repayment from 91days to 365days , Easy to get safe loan. and Annual percentage rate (APR) from 12% to 34% per year.
The application has been downloaded over 500k times on Google playstore and has average user ratings of 4.5, this makes them one of the best new loan applications in Nigeria.
11. Easycash
EasyCredit is a loan app in Nigeria that is secure and reliable. You can borrow anywhere from 3,000 to 100,000 NGN for anywhere from 91 days to 365 days. The interest rate ranges from 0.1% to 1%, and there is a one-time processing fee that ranges from 1,256 to 6,000 NGN. The Maximum Annual Percentage Rate (APR) is 40%. To apply for a loan, you just need to install the app, register an account, and apply. You will receive your loan and can increase your loan limit each time you repay your loan.
12. Newcredit
The Newcredit app is a personal and secure lending service app in Nigeria that is simple to apply for. You can borrow money from N10,000 to N300,000 using the Newcredit app and return it in 91 to 365 days. The Newcredit app is a secure and convenient method to obtain a loan without a mortgage. The Newcredit app's annual percentage rate ranges from 24% to 56%. You must be a Nigerian resident, 18-60 years old, and have a valid document and proof to apply for a loan through the Newcredit app.
13. icredit
The iCredit online loan platform in Nigeria provides flexible and safe loans with repayment terms ranging from 91 to 365 days. Loan sizes range from N1,000 to N50,000, with APRs ranging from 5% to 36%. There is also a one-time origination cost ranging from N1,000 to N6,000. To be eligible for a loan, you must be a Nigerian resident aged 20-55 with a monthly salary or income.
14. TrueNaira
TrueNaira is one of the new loan application taking the industry by storm. To get a loan you must be a Nigerian citizen between the ages of 20 and 60. The loan amount ranges from N2,000 to N300,000, with repayment terms ranging from 91 to 365 days. Annual interest rates range from 16% to 21%. Because there is no service fee, the entire payback is simply the loan amount plus interest.
15. Umba
Umba is a digital banking app that allows users to apply for loans, pay bills, and transfer money. Once an individual is verified, they are assigned a risk rating and can access bigger loans with lower fees and flexible payment terms. There is no collateral or office visits needed and loans are approved and disbursed quickly. Loan amount ranges from N2,000 to N30,000, Umba loans have a maximum and minimum duration of 62 and APR of just 10%.
16. Ajeloan
Ajeloan is a Nigerian lending platform that offers easy, 100% online loan with a low-interest rate and allows you to access the loan at any time and anywhere. You can apply for a personal loan in case of emergency cash. It saves your time and efforts. The app is safe and secured. Quick approval and instant cash access in your app. Loan amount ranges from ₦5,000 – ₦100,000 with Easy and flexible repayment plan. Interest rate is 0.013% to 0.05, a one time processing fee of 10% is paid, Loan term ranges from 91 days – 180 days with annual interest rates from 14%-20%.
17. Xcash
You can borrow money online with the Xcash loan app. Borrowing amounts range from N10,000 to N50,000, with loan terms ranging from 91 to 180 days. The annual percentage rate ranges from 24% to 56%. To get started, you'll need an Android phone and access to the internet. Download the Xcash app from the Google Play store and create an account using your phone number. Choose the product for which you want to apply and enter your information carefully. Once authorized, the loan will be deposited into your bank account, and you will be able to begin payments on the agreed-upon date.
18. Quickbucks by Access bank
QuickBucks is an Access Bank loan application app. To begin, download the app and register with your email address and phone number. Once you've joined up, you'll be able to edit your profile and see all of the loans for which you qualify. You can also see nearby places like supermarkets, bank branches, and shops.
19. First Nell personal loan
First Nell is one of the latest loan application to be introduced to the Nigerian market. Launched on August 11 2023, It is developed by merit finance credit and they give loans ranging from ₦50,000 – ₦250,000, with loan term of 91 days, the longest being 365 days, Daily interest rate of 0.0057% and Maximum annual interest rate APR: 20.55%.
They currently have over 100k downloads on playstore, with average ratings of 4.6.
20. Bg Loan
Bg Loan is a new loan financing application that offers instant loans of varying interest rates to users, all you need is your mobile phone and your ID documents for registration.
Loan ranges from ₦3,000 to ₦200,000, Loan period ranges between 91 and 180 days and Interest rate between 0.75% to 1.9% per month, 9%-23% per annum (depending on your credit rating).
This application is a good quick loan service, it currently has amassed over 100k downloads and an average ratings of 4.7.
21. Fair credit
fair credit is another online loan application that was launched on January 2023, since then it has become popular among Nigerians and currently has over 100k downloads on playstore.
Loan amounts range between ₦1,500 to ₦1,000,000 with repayment periods from 95 days to 18 months at monthly interest rates that range from 2.5% to 30% (APRs from 0% to 32%)
they makes fast disbursement and are reliable.
22. Surecredit
Sure credit is a reliable and secure loan application launched on 31st may 2023, They give loans to customers in the range of ₦10,000 to ₦100,000 with repayment periods from 91 days to 365 days. Annual interest rates from 12%-20%.
Surecredit has a good user interface, easy loan application process and fast disbursement rate.
23. Irorun
You may easily get loans when you need them thanks to Irorun, which in Yorùbá means "peace of mind." Sign up in only a few seconds, submit a loan application, and get cash deposited into your wallet.
Irorun provides microloans with amounts ranging from N5,000 to N50,000. You must be at least 21 years at your last birthday to be eligible. The loan tenure ranges from 60 days to 90 days. Interest rates range from between 3% to 5% per month with a typical APR of 36%.
24. WeCredit
WeCredit is a relatively new loan application compared to big ones such as branch and fairmoney, the offer fast loans and registration is straightforward as well.
Loan amount ranges from ₦3,000 to ₦500,000 naira and the time of repayment can range from 91 days to 16 months with monthly interest rates ranging from 2% to 24%.
Getting loan with WeCredit is easy and will only require your BVN to process.
25. P2vest
P2vest is a new peer to peer loan application that borrowers get money directly from lenders, which makes it easy to get a loan.
You'll be required to fill all necessary documents and IDs before you can start using this app.
P2Vest provides flexible interest rates calculated based on credit scores. P2ves focus is micro credits and the values range from N5,000 to N100,000, and you must be at least 18 years at your last birthday to be considered for a loan. The loan tenure can be between 60 to 180 days, customers are allowed the option to choose tenure. A loan could be as low as 2% per month and as high as 20% per month. This translates to an Annual Percentage Rate (APR) of between 24% to 48%.