Business ideas
How To Start a Profitable Pharmacy Business In Nigeria 2023
How To Start Pharmacy Business In Nigeria
Pharmacists are highly trained healthcare professionals who have completed a Doctor of Pharmacy (Pharm.D.) degree program. During their education, they study various aspects of pharmacology, pharmacotherapy, medicinal chemistry, drug interactions, and patient care. This extensive training equips them with the knowledge and skills needed to understand how medications work, their potential side effects, and how they can be used to treat different medical conditions.
Where Can a Pharmacist Work?
Once qualified, pharmacists can work in various settings, such as community pharmacies, hospitals, clinics, or research institutions. 
However, before diving into how to start a pharmacy business in Nigeria, let's explore some of their primary responsibilities in different settings:
Community Pharmacies
In this setting, pharmacists interact directly with patients who come to pick up their prescriptions. 
They verify and dispense medications prescribed by doctors, ensuring the correct dosage and instructions. 
Pharmacists also offer valuable advice and counseling to patients about how to take their medications properly, potential side effects, and any precautions to be taken.
They may also provide guidance on over-the-counter medications and health-related products.
Hospital Pharmacies
Hospital pharmacists work as part of a healthcare team to ensure that patients in the hospital receive appropriate medications. 
They collaborate with doctors and nurses to review patient profiles, check for drug interactions, and make sure the prescribed medications go along with the patient's medical condition. 
Hospital pharmacists may also prepare specialized medications, especially for patients who need intravenous or parenteral administration.
Clinical Pharmacists
Clinical pharmacists work closely with healthcare teams to optimize medication therapy for individual patients. 
They conduct medication reviews, monitor treatment progress, and make recommendations to physicians about the most suitable medications for specific patients. 
Research and Development
Some pharmacists work in research and development roles, contributing to the discovery and testing of new medications.
They may work for pharmaceutical companies, academic institutions, or government agencies to explore the genuineness and safety of new drugs and therapeutic approaches.
Regulatory and Policy Roles
Pharmacists can also be involved in regulatory affairs, ensuring that medications meet safety and quality standards set by governmental bodies.
They may participate in policy development related to medication management, patient safety, and public health initiatives.
Now let's dive into how to start a pharmacy business in Nigeria.
How To Start Pharmacy Business In Nigeria In 2023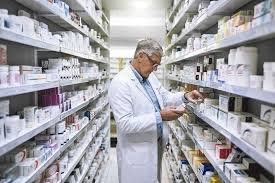 Starting a pharmacy business in Nigeria is definitely a rewarding business idea considering the growing demand for healthcare services in the country. However, it's essential to follow the necessary steps and comply with regulations to establish a successful and legally compliant pharmacy. Here's a step-by-step guide on how to start a pharmacy business in Nigeria in 2023.
Market Research and Planning
The first thing required of you on how to start a pharmacy business in Nigeria is to do thorough market research to understand the demand for pharmaceutical services in your target location. 
You will need to identify your potential competitors and assess their strengths and weaknesses. 
Also, you will need to create a standard business plan where your goals, target, market, services, and marketing strategies will be outlined.
Educational Requirements
The second thing you need to know on how to start a pharmacy business in Nigeria is to be educated.
You need to prove that you have the necessary educational qualifications to run a pharmacy business and that can only be done through education. In Nigeria, you will need a Pharm.D. degree from a recognized university and must be registered with the Pharmacists Council of Nigeria (PCN).
Location and Premises
Since you want to start your own pharmacy company, you need to choose a strategic location for your pharmacy business.
Read: Top 10 List Of Fast Growing Businesses In Nigeria
It should be easily accessible to your target customers, preferably in areas with significant foot traffic or close to hospitals or clinics. 
Obtain the required business permits and licenses to operate legally.
Pharmacy Design and Setup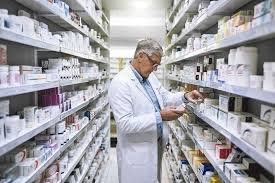 Design the layout of your pharmacy to be functional and aesthetically pleasing. 
It should have a dispensary area, counseling space, storage for drugs, and a waiting area for customers. 
Ensure that the premises comply with safety and health regulations.
Registration and Licensing
Another step on how to start a pharmacy business in Nigeria is to get your business its license.
It's important to get your pharmacy business registered with the Corporate Affairs Commission (CAC) and obtain a Certificate of Incorporation. You must also secure a license from the Pharmacists Council of Nigeria (PCN) to operate a pharmacy legally.
Pharmacist Recruitment
Here, you may need to hire qualified pharmacists and other necessary staff to run the day-to-day operations if you're starting big. 
The number of pharmacists you need may depend on the scale of your pharmacy and the regulations in your state.
Procurement of Medications
Establish relationships with reputable pharmaceutical wholesalers and manufacturers to procure medications and other healthcare products. 
Ensure that the drugs you stock are from approved sources and have the necessary certifications.
Inventory Management
Implement a robust inventory management system to track stock levels, expiration dates, and restocking needs. 
Avoid stockouts of essential medications and manage inventory turnover efficiently.
Continuous Improvement
To haste your success in the pharmacy business, you will need to regularly evaluate your pharmacy's performance and customer feedback.
Always try to make improvements and introduce new services or products to meet customer needs effectively.
FAQs On How To Start Pharmacy Business In Nigeria
How much does it cost to start a pharmacy business in Nigeria?
The cost of starting a pharmacy in Nigeria usually depends on factors such as location, size of the pharmacy, and the range of services you plan to offer.
Generally, the startup cost can range from several million Naira to tens of millions of Naira or even more.
Is pharmacy business profitable in Nigeria?
Yes, pharmacy business can be profitable in Nigeria due to the country's large population and the increasing demand for healthcare services. 
The healthcare sector is continuously growing, and pharmacies play a crucial role in providing essential medications and healthcare products to the public.
What qualifications do I need to open a pharmacy?
To open a pharmacy in Nigeria, you need to fulfill the following qualifications:
Pharm.D. Degree: You must have a Doctor of Pharmacy (Pharm.D.) degree from a recognized university.
Pharmacists Council of Nigeria (PCN) Registration: After completing your Pharm.D. degree, you need to register with the Pharmacists Council of Nigeria (PCN). PCN is the regulatory body responsible for regulating and controlling pharmacy education, training, and practice in Nigeria.
Business Registration: You must register your pharmacy business with the Corporate Affairs Commission (CAC) as a private limited liability company.
Can a pharmacy technician open a drug store?
In Nigeria, pharmacy technicians are valuable members of the pharmacy team, but they are not qualified to open and operate a drug store independently.
Pharmacy technicians work under the supervision of a registered pharmacist and assist with various tasks related to dispensing medications and managing pharmacy operations.
To open and operate a drugstore (pharmacy) in Nigeria, you need to be a registered pharmacist with a Pharm.D. degree and PCN registration, as mentioned earlier. 
Pharmacy technicians can contribute to the smooth functioning of a pharmacy, but they cannot legally own or manage a pharmacy business on their own.