POS guides
How to get Moniepoint POS Machine – Moniepoint POS Machine Charges, Price, Daily Target
MoniePoint is known as a financial technology company based in Nigeria that provides various digital financial services. It is known for its network of agents who offer services such as cash withdrawals, deposits, bill payments, fund transfers, and mobile airtime top-ups.
MoniePoint operates through a network of Point of Sale (POS) devices that are deployed across different locations in Nigeria.
Customers can visit MoniePoint agents, who are usually small businesses or individuals, to perform these financial transactions. 
The agents use MoniePoint's POS machines to carry out transactions on behalf of MoniePoint. 
The POS machines are portable electronic devices that enable secure and convenient digital transactions.
The company aims to provide financial inclusion and convenience to individuals who may not have access to traditional banking services. 
By utilizing its network of agents and POS machines, MoniePoint makes it easier for people to carry out various financial transactions without the need for a traditional bank account.
However, if your plan is to get the MoniePoint POS agent then this article is actually meant for you. 
In this article, you will learn how to get a MoniePoint POS machine. Also, I will let you know about the MoniePoint POS charges, price, and the MoniePoint daily target.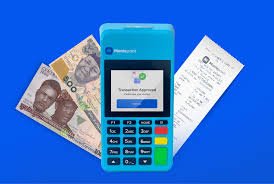 How to get a MoniePoint POS machine in 2023
To get a MoniePoint POS machine, you can follow the general steps I've provided below:
Understand the requirements
The first step on how to get a MoniePoint POS machine is to understand the requirements.
Read: MoniePoint Login With Phone Number, Email, Online Portal, Website
 Learn about the specific requirements for obtaining a MoniePoint POS machine. This may include details such as your business type, location, and documentation needed.
Download MoniePoint App & Sign Up
The first step you may need to take on how to get a MoniePoint POS machine is to download the app from Google Play Store or Apple App Store.
The MoniePoint app is available in both stores.
After you have successfully get it downloaded, launch the app and sign up with your real details.
Prepare necessary documents
Gather the required documents that MoniePoint may request. 
These typically include a valid identification document (such as a passport or national ID), proof of address (utility bill or bank statement), and business registration documents (for registered businesses).
Complete the application
Follow the instructions provided by MoniePoint to complete the application process. 
This may involve submitting the necessary documents electronically or physically.
Wait for approval
After submitting your application, you will need to wait for MoniePoint to review and approve it. 
The processing time can vary, so be patient during this stage.
Receive the POS machine
If your application is successfully approved, MoniePoint will provide you with a POS machine. 
They will likely schedule a time for delivery or provide instructions on where to pick it up.
Related:
Set up and activate the MoniePoint POS machine
Once you have received the POS machine, follow the instructions provided by MoniePoint to set it up and activate it for use. 
This may involve connecting it to power, the internet, and configuring any necessary settings.
After everything is set up, then you can start using the POS machine for transactions.
MoniePoint POS Charges
On each transaction performed on MoniePoint, bear in mind that there's a charge for each. 
For example, for withdrawals of up to N20,000, MoniePoint charges a 0.5% fee, while for transactions above N20,000 MoniePoint will charge a flat rate of N100 and a flat rate of N20 for money transfers.
MoniePoint POS Machine Price In 2023
MoniePoint POS machine is one of the most affordable and durable POS in Nigeria today. 
With just N21,500, you can get a MoniePoint POS machine directly from the company. However, the price may vary by agent and depending on location.
MoniePoint POS Daily Target
Something unusual has happened in recent days. 
Unlike company had recently increased its daily target from N25,000 to N100,000 and has severally affected agents that cannot meet up.
So it's important you consider the daily target before considering going for MoniePoint POS.
How much does Moniepoint POS cost?
As said earlier, MoniePoint's direct price is N21,500. 
However, if you're buying from agents then you may have to expect the price to be more than that.
How long does it take to get a Moniepoint POS terminal?
Getting a MoniePoint POS isn't a long process. You can easily get it just within the period of 48 hours.
How do I start Moniepoint?
Starting with MoniePoint is simple. 
Just download the app, meet the requirements, fill in your details, verify your account with an OTP password that would be sent to you, and get your POS within 48 hours.
How much is Moniepoint daily target?
The MoniePoint POS daily target has been increased from N25,000 to N100,000. 
The increase in daily targets has badly affected some agents as they couldn't meet up with the target.
How much can I make as a MoniePoint POS agent?
The amount anyone can make as a MoniePoint POS agent may vary and depends on your sales.
However, with a good business strategy, you should be making more than the average salary of some government workers in Nigeria.
One thing you should make Important is to locate your POS business in a very busy area and with good strategy, you should be making a mouthwatering amount of money monthly.