Here's another article that shows how you can seamlessly get a loan from a commercial bank in Nigeria. In this article, I'll show you how to get a loan from Ecobank in Nigeria in 2023. This includes the history of the bank, requirements, interest rates, loan types, etc.
Brief History Of Ecobank In Nigeria
Ecobank is widely known as a pan-African bank that was established as far back as the year 1985.
The company's headquarters are in Lomé, Togo, and operates in over thirty-three (33) countries in Africa.
Ecobank financial institution was established with the aim of promoting economic integration and financial cooperation across Africa. 
It began operations in Togo with a capital of $32 million and currently, it has grown to become one of the largest financial institutions in Nigeria and in Africa at large.
Related: How To Get A Loan From FCMB Bank In 2023
In the year 2011, Ecobank was able to acquire Oceanic bank which gave it a boost in its growth.
Today, Ecobank has more than 1200 branches and 13 thousand agency banking across African countries.
Types Of Ecobank Loan
Before proceeding to know how to get a loan from Ecobank, it's essential you know the various types of loans Ecobank offers.
1. Personal Loan-  The Ecobank personal loan is a loan type that is designed primarily for individuals to help them meet their personal financial needs or emergency needs. 
However, the interest rate is based on borrowers' creditworthiness.
2. Mortgage: This is yet another loan type that is designed for anyone interested in purchasing a house but doesn't have enough at hand to get it.
3. Business Loan: This is a loan that is designed to help business owners to boost their business through the provision of loans with flexible repayment.
The repayment of this loan will depend on the size and type of the business. 
4. Auto Loan- The Ecobank Auto loan is I'd specifically designed to help individuals purchase a car or other vehicles. The loan can be used to finance a new or used car, and the interest rate and repayment period depend on the borrower's credit score.
5. Asset Finance: If you're looking towards acquiring assets e.g business vehicles, machines, or other equipment, this loan offer is for you.
6. Payroll Loan; If you're an employee working in a reputable private or public organization then you may need to take this short time loan.
The main purpose of this loan is to help when in need of money before your salary arrived. 
Once, the salary is paid to your bank, the bank will automatically deduct its money with interest.
Ecobank Loan Requirements
Another thing you still need to know before learning how to get a loan from Ecobank is their loan requirements.
It's not new to anyone that getting a loan is impossible without first meeting their requirements, and that is why I decided to set it before you learn how to get the loan.
Below are the common loan requirements for Ecobank.
You need to complete loan application form at the bank

You must provide proof of identification e.g national ID card or passport.

You must provide proof of address, such as a utility bill or tenancy agreement.
Provisions of income, such as payslips or bank statements.

You must not have an outstanding loan with other banks etc.
However, for business loans, loans, Ecobank may also require a business plan, financial statements, and other relevant documents.
Ecobank Loan Interest Rate
 Loan interest rates usually vary depending on the type of loan, the amount borrowed, and the repayment period. 
The interest rates for personal loans and auto loans are typically higher than the others mentioned in this article.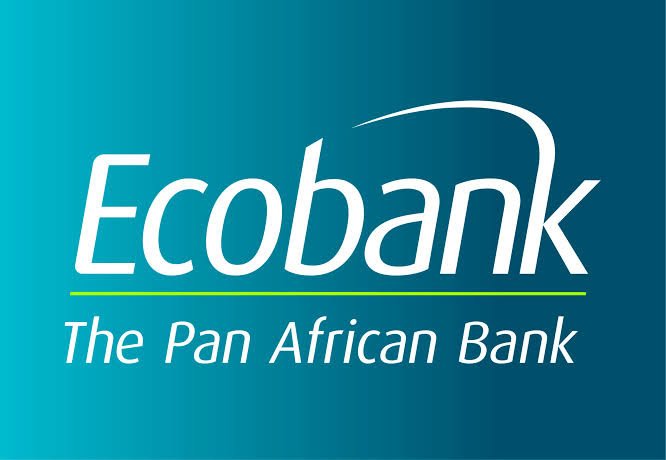 How To Get A Loan From Ecobank In Nigeria
This is exactly where we're going!
For you to successfully borrow money from Ecobank, kindly follow the steps below:
1. Determine The Type Of Loan: This is deemed the most important of all. Ecobank offers various types of loans as explained earlier in this article, Therefore, it's highly crucial for you to determine the type of loan that best suits your needs and budget.
2. Ensure All Requirements Are Met: 
Once you have identified the type of loan you need, make sure you meet the requirements for the loan.
 The requirements may vary depending on the loan type, but generally include proof of identification, proof of address, proof of income, and other relevant documents, this was also mentioned among the requirements above.
3. Complete The Loan Application: Kindly visit any Ecobank nearest to you to obtain a loan application, fill it and submit it to the bank agent. You may also download the form from Ecobank's website and complete it before visiting the bank.
After the submission, you need to wait for a review which will be carried out by the Ecobank officer.
4. Wait For Approval: After your loan application has been reviewed, Ecobank will get in touch with you if your loan is approved or declined. If approved, you will be required to sign a loan agreement and provide any additional information required.
5. Get The Loan Disbursement: After signing the loan agreement, the funds will be paid to your account or as agreed with the bank.
Frequently Asked Questions (FAQs) On How To Get A Loan From Ecobank In Nigeria
There are some questions related to how to get a loan from Ecobank In Nigeria, and some of them have been provided here with answers.
What services does Ecobank offer?
Ecobank is a bank that offers various banking and financial services, including personal and business banking, loans and credit, investments, insurance, mobile banking, etc.
How do I open an account with Ecobank?
You can visit any Ecobank branch in Nigeria with the required documents e.g valid ID, and proof of address. 
You can also apply for an account online through Ecobank's website, yet you will need to visit any of their branches to do the necessary things for your account to become active.
How do I contact Ecobank customer service?
You can contact them through their email, website, or phone.